Rosemont Copper, and its parent company Augusta Resource, would like for us to believe that their massive copper mine in the Santa Rita Mountains will not impact Green Valley and Sahuarita.
This is a different story than they are telling potential investors — that it has plans to mine its claims on the western side of the Santa Rita Mountains, which will clearly impact Green Valley and surrounding areas.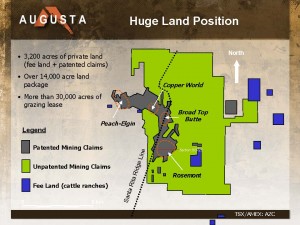 In a "roadshow" presentation to potential investors, Augusta clearly shows that the Rosemont Mine is part of  their "Huge Land Position" which includes holdings on the western side of the Santa Rita Mountains facing Green Valley. (Click here to download the full presentation)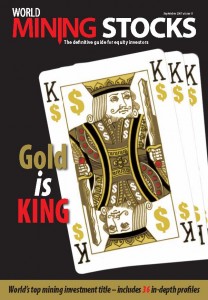 In an article currently on their web site (as of 10/1/2010) Augusta CEO Gil Claussen says that these "three other properties [Peach-Elgin, Broad Top Butte and Copper World] offered opportunities for further exploration, especially including Broad Top Butte as the Rosemont deposit is open to the north and east directly toward where Broad Top is located."  (Click here to download the full article)
While Rosemont seeks Forest Service approval to develop a huge open-pit copper mine creating significant and permanent regional environmental impacts, it has told potential investors that it has intentions to mine an even larger area of our Santa Rita Mountains.
This map illustrates the impacts to the views of the Santa Rita Mountains should the Rosemont Mine and the other "Rosemont land positions" be allowed to proceed.  (To download the complete set of comments on Rosemont's visibility impacts, click here.)
Rosemont needs to get its stories straight.